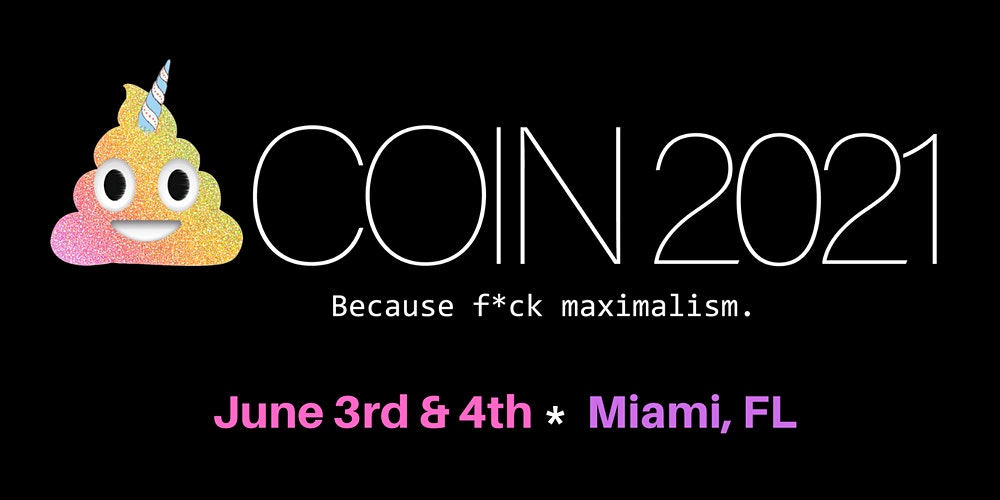 About this event
We all know bitcoin is king…
But that doesn't mean there's not a ton of valid projects in the space. For the longest, bitcoin maximalists have shunned and disregarded the hard work of entrepreneurs and builders in blockchain- referring to everything as a "shitcoin".
We decided to attack back! THIS IS OUR SPACE TOO!
Shitcoin 2021 is dedicated to all the companies that got turned away from participating in one of the largest crypto events. We're conveniently located in Wynwood- down the street from bitcoin 2021 😉
*************FOOD-DRINKS-AND A GOOD TIME!********
SPEAKERS & SPONSORS:
KENN BOSAK- NFTS
BUBBLEGUM NFTS- $1 NFTS
MISS TEEN CRYPTO- NFTS, Gen Z, and Crypto
FLOTE.APP
CRYPTO CULTURE- DEFI
BITCONNECT- The more infamous shitcoin: the aftermath
ILLUST SPACE- NFTS AND AR
VY FINANCE- DEFI
BLOCKCAHIN UNIVRSE- Crypto and VR
JUST LEARN CRYPTO
AMPLIFY.ART – NFTS
GOLDMANN STAXX- COMMUNITY
THE CRYPTO SHOW
QUANTIFY CRYPTO- DEFI
SUPERWORLD- REAL WORLD VR AND NFTS
ILLUST SPACE- NFTS AND ART
MUNER0- ACTIVISIM THRU SHITCOINS
MIKE SALVI- COMEDIAN
JEFF CANE- PRODUCER
IRINA S. LITCHFEILD
ILLMIND AWARD-WINNING PRODUCER
HAHA FOR HIRE COMEDY SHOW
YUM YUM FARM (IN VR)
SPACY LION (IN VR)
CHUCK WILLIAM FROM FLOTE.APP
NICK SHEPPARD FILMMAKER
Share This Story, Choose Your Platform!